Servicio Evangélico
Documentación / Información

---

Museo de máquinas moleculares
---
Tomado y traducidode ARN - Access ResearchNetwork [Véase alpie]
---
El flagelo bacteriano
[ ver a altaresolución]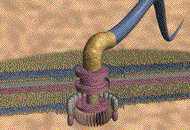 Ilustraciónrelacionada
---
Para entrar en elVestíbulo del Museo de Máquinas Moleculares,haga clic aquí.
---
Copyright 1998 Access Research Network. All rightsreserved. International copyright secured.
File Date: 9.24.00
Traducción al castellano: SantiagoEscuain
Copyright de la traducción © 2001 SEDIN. Todos losderechos reservados.
Este fichero se puede reproducir en su integridadpara usos no comerciales.
Se agradecerán enlaces con los sitios Web de Access ResearchNetwork y SEDIN.
Page development by Premier Publications
for Access Research Network,
Colorado Springs, Colorado, USA.
---
[ Páginaanterior ] [ Índicegeneral ] [Vuelve a lapágina principal ]
---
[ PreviousPage ] [ MolecularMachines Museum (En inglés) ] [ PáginaPrincipal de ARN [Access Research Network] ]
---
¿Quiere recibir boletines de novedades en el centro Web de SEDIN? Suscríbase a nuestra lista para recibir boletines ocasionales.
Para ello, acceda a la página principal, acuda al cuadro para suscripción y siga las instrucciones.
Voleu rebre butlletins de novetats en el centre Web de SEDIN? Es pot subscriure a la nostra llista per a rebre butlletins ocasionals.
Per això, vagi a la pàgina principal de SEDIN, passi al quadre de subscripcions, i segueixi les instruccions.
Join our mailing list!
To this end, go to the Main Page of SEDIN, go to the subscription frame and follow the instructions.
---

Nos puede escribir por e-mail:

i n f o @ s e d i n . o r g

o por correo a:

SEDIN
Apartat 2002
08200 SABADELL
(Barcelona)